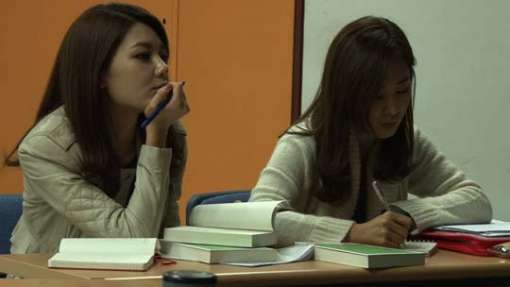 The everyday campus life of Girls' Generation's maknae, Seohyun, has been revealed recently.
On the episode of KBS2′s "Star Life Theatre" which will air on November 21st, Seohyun's university life was filmed. Not only were her friends and acquaintances shown on the show, but her passion for her studies was also shown.
Seohyun has always been known for her strong will and her perseverence that gives her the "must-start-what-you-finish" attitude. According to her professor on this show, Seohyun said during a counseling session, "Even if I get an F and I'm placed under academic probation, I will always work hard to attend school," showing her strong will.
This show will show that on days that Seohyun actually goes to school alone by taxi without her managers, she eats lunch and chats in the cafeteria with her friends while laughing at regular twenty-year-old topics.
She enjoys her day at school not as Girls' Generation member Seohyun, but as "University Student Seo Juhyun".
Seohyun's second year of campus life and her friends' testimonies of the "University Student Seo Juhyun" can be seen on KBS2′s "Star Life Theatre" at 7:45 from November 21st through the 24th.
Source:
Daum
Translated by: taengbear@soshified.com
Contributors: residentbenchwarmer@soshified.com, MoonSoshi9@soshified.com
Original posts :
soshified.com
From allkpop
SNSD's Seohyun to open up about her university life
SNSD
's
maknae
Seohyun
will be revealing her daily life on campus through a TV special.
KBS 2TV's '
Star Life Theater
' will examine details about Seohyun's life at school, looking not only at her relationship with friends, but also at her academics.
Seohyun was described as a student with a firm foundation, and one who always accomplishes whatever she puts her mind to. According to one of her professors, Seohyun once expressed her firm dedication to her studies.
"Even if I get an 'F' or get put on academic probation, I will continue to come to school diligently,"
she said.
Seohyun takes the taxi on her own to come to school, and during her lunch period, she sits amongst her friends in the cafeteria, laughing and enjoying herself as any normal student in her 20s.
It seems that when she is at school, Seohyun enjoys simply being '
college student Seo Joohyun'
[
her real name
] rather than being a superstar.
You can learn more about Seohyun's life as a 2nd year college student when the special runs from November 21st through November 24th on 'Star Life Theater'.
Source: DongA via
Nate